Suntex High-Temp Textiles
Founded in 2004, Suntex Composite Industrial Co, Ltd is a young and dynamic company specialized in manufacturing of high temperature industrial textiles. Depended on continue innovation and meticulous working of our employees team, Suntex is growing to become the leading supplier of fiberglass, silica and ceramic fiber based high temperature textiles and insulation. Nowadays, Suntex has been the pioneer and the leader in treated and finished industrial textiles where thermal protection and high performance solutions are required.
Expansion joints are flexible pipelines and channel joints used in industrial installations. When ventilation system or air conditioner system works, it generate noise and vibrations, they transmit through air ducts, affect the operation of system. To eliminate the noise and vibrations, it is necessary to install an expansion joints at the connect place of equipment and ducts. It ensure an appropriate compensation of thermal and mechanical dilatations of the fumes channels, hot air pipelines and other media. Suntex provide variety of high temperature textiles not contain any asbestos and can withstand high temperature up to 1000℃, oil resistance, high strength.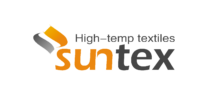 Company name:
Suntex High-Temp Textiles
Address:
1212 Fortune International Building, 717 Wuluo Road
Phone number:
+86-027-87869042