Cerex Advanced Fabrics, Inc., located in the Pensacola Florida area, is an ISO 9001 certified manufacturer of a broad range of specialty spunbond use nylon fabrics. With more than 45 years of industry expertise, we are the largest manufacturer and global leader of specialty nylon fabric solutions.
Our products are made of multipurpose nylon (PA66) as it is one the most durable and toughest man-made polymers available. Our product has high tensile and tear strength while maintaining low fabric weights. Our nylon products also have great thermal stability with a melting point of around 500 degrees Fahrenheit. Cerex Advanced Nylon Fabrics have exceptional uniformity and are used worldwide in numerous applications in a variety of markets which call for high quality, durable fabric. In addition, our nylon products bond well with adhesive and resin systems, making our fabrics excellent components for laminate and composite systems.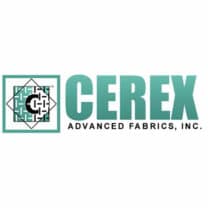 Company name:
Cerex Advanced Fabrics, Inc.
Address:
610 Chemstrand Rd
Phone number:
(850) 937-3365
Fax number:
(850) 937-3328