APC Filtration Inc. is an ISO 9001:2015 certified manufacturer providing over 35 years' experience in critical air filter design, engineering, manufacturing and air filter testing for global OEM's of industrial, commercial and household equipment. APC provides unique, proprietary and/or patented air filters and design through rapid prototype modeling with testing to meet North American and European standards.
Our customer service and engineering staff is simply the best within our industry. Accurate and detailed, we work with each customer from product concept to preproduction QC approval to ensure timely delivery of your project requirements.
GLOBAL MANUFACTURING
With manufacturing, sales offices and warehouse locations in the United States of America, Canada and China our global manufacturing and logistics services provide value added cost savings.
OUR VALUES
Since our inception, APC has been governed by its core values. They shape the culture and define the character of our company. They guide how we behave, make decisions and conduct our business. We integrate our core values into our daily activities, helping us work toward achieving our collective vision.
MISSION STATEMENT
To provide our global clients with first to market filtration solutions for a cleaner, healthier, and safer environment.
To earn our customers trust by unleashing the potential of air filter innovation through continual improvement driven by integrity, teamwork and invention.
Maintain our reputation of excellence in air filter design, engineering, filter testing, and manufacturing of high quality and innovative air filter products.
QUALITY POLICY
We endeavor to be a world-class manufacturer by meeting and/or exceeding customer expectations through continual improvement in all areas of our business.
APC Filtration Inc. works with their employees to create a stable learning environment and implements key performance indicators that are essential for success.
We strive for excellence in everything we do including cost effective service, producing quality product, development of employees, customer relationship management, safety and profitability.
Customer satisfaction is our ultimate objective and we ensure that:
Quality Policy is communicated and understood to all employees and available to interested parties
Quality objectives are established and reviewed periodically
Employees are competent to deliver required products and services
Internal and external issues are identified and actions are taken to mitigate the potential risk and to create the opportunities
Interested parties are identified and their expectations are met
Applicable compliance obligations are identified and complied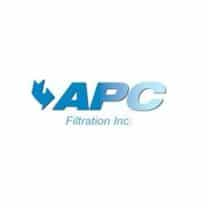 Company name:
APC Filtration Inc.
Phone number:
888-689-1235