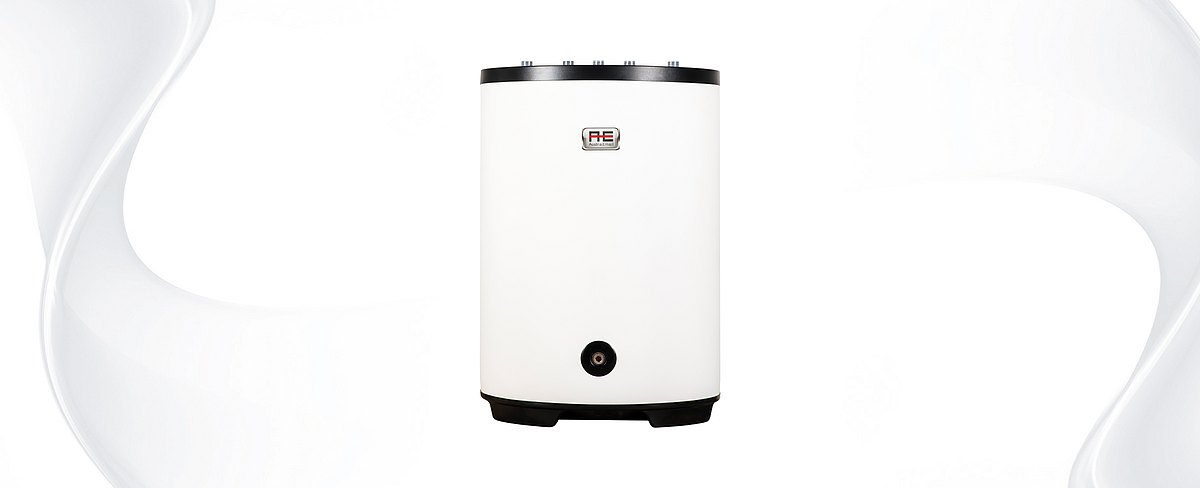 The innovative GTS is characterised by high heat transfer through large enamelled and directly welded heat exchangers.
AE uses HFO high-efficiency insulation in the GTS thermal accumulator, which significantly reduces radiation loss compared to the previous product. The inner boiler is foamed directly into the outer cladding – this prevents a chimney effect through separating joints and pipe passages and thus additionally increases energy efficiency.
A special feature of this unit is the impact-resistant polypropylene jacket. In contrast to the otherwise frequently used sheet metal casing, a polypropylene casing is shock and scratch resistant and thus reduces the risk of damage during transport and installation. And should the storage tank ever become dirty, the polypropylene jacket allows it to be cleaned easily with water.
Compared to conventional thermal storage tanks, GTS has a large-area, enamelled and directly welded heat exchanger (1.1 m2) with particularly high heat transfer. The GTS is ideally suited as an auxiliary cylinder for gas condensing boilers.
AE tip for the specialist tradesman: Transporting the GTS is even easier because it is equipped with a practical stand/carrying aid combination.
This article is published by
The Austrian company Austria Email is one of the leading European manufacturers of high-quality water heaters and the only storage tank manufacturer with its own development and production of trend-setting fleece insulation for large and buffer storage tanks. The location has a modern buffer storage tank plant and its own thermo-technical ...