TSRE specializes in manufacturing custom lifting slings, lifting devices, and rigging equipment for industrial use, as well as providing tire chains and load securement equipment to the transportation industry. We work with manufacturers as a master distributor of chain hoists, rigging components, lifting beams, spreader bars, and much more.
Tri-State Rigging Equipment is a lifting and rigging solutions company specializing in improving worker productivity and safety. With over 60 years of material handling experience, we offer our customers the best off-the-shelf rigging equipment along with our custom engineered and manufactured lifting devices. Our custom engineered lifting devices and special equipment solutions help to create optimum cost-effective improvements for your most demanding projects. Whether you are performing an engineered lift or buying rigging equipment for your next construction project, TSRE is your one-stop rigging solutions provider. Tri-State Rigging Equipment serves clients from the United States, Canada, and Mexico, especially focused in the states of Missouri, Illinois, Indiana, Iowa, Kansas, Nebraska, Arkansas, Mississippi, Tennessee, Kentucky, South Carolina, Florida, and Oklahoma.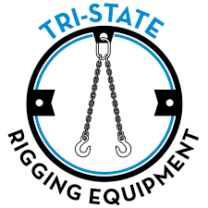 Company name:
Tri-State Rigging Equipment
Address:
4000 Fee Fee Rd.