Technical Absorbents Ltd
We have been leading the way in the development and manufacture of Super Absorbent Fibre (SAF™) for nearly three decades, and, more recently, SAF™ fabrics and SAF™ spun yarns. Supplying solutions globally, innovation is key and we continue to design new technologies to meet the specific requirements of our growing customer base. Applications for our products span numerous market sectors, including: Healthcare (medical and hygiene); Industrial (filtration and cable); Food (packaging); Environmental (horticulture).
For over 20-years, Technical Absorbents Ltd has been at the forefront of the fibrous superabsorbents industry with its unique Super Absorbent Fibre (SAF™) technology. SAF™ can rapidly absorb 200 times its own weight in water and 60 times its own weight in saline extremely quickly and is used globally in a wide range of applications, e.g. medical, cable, food packaging, hygiene, apparel and filtration. Although SAF™ remains at the heart of the business, it is the wide range of washable and disposable SAF™ fabrics that are now capturing the imagination of product designers.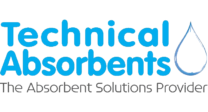 Company name:
Technical Absorbents Ltd
Phone number:
+44 (0)1472 245200