A2Z Filtration Specialities Private Limited
A2Z Filtration Specialities is a Designer and Manufacturer of Filter Production lines, Filter Testing Equipment and Filter Components with a client base in over 70 countries across six continents. The Company produces complete customer centric solutions in the field of filter manufacturing, and excels in providing superior value, and durable and globally serviceable product lines. The components are sourced from leading global suppliers to ensure an ease of availability and trouble-free maintenance. Features such as Remote access for servicing and upgrading equipment software are coupled with pictorial manuals to make their products easy to use, efficient and offer excellent value for money.
A Dynamic work force comprising of over 65 engineering professionals in Design, Manufacturing and Installation, A2Z is providing complete solutions around the globe. Additionally, A2Z is also using a state-of-the-art Solid Works® 3D design software for the design and simulation of filter manufacturing lines. A2Z has sold over 1750 machines covering a wide range of filter manufacturing processes. Given the Company's experience with a wide range of processes in filter manufacturing, A2Z can offer unique fit to purpose solutions to produce filters with newly developed technologies and increasing performance.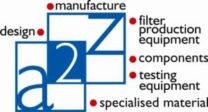 Company name:
A2Z Filtration Specialities Private Limited
Address:
D-1, Phase II, Info Technology Park, Sector 33
Phone number:
+91 124 478 8700