Textile Fabrications was established in 1987 and has evolved from a family business based in Liverpool that manufactured industrial filter sleeves, bags and other related items since 1882 for both the home and export markets.
Today, with a very experienced and versatile workforce we manufacture flexible fabric connections and are also able to undertake many different types of projects, no matter how unusual or obscure. We specialize in producing 'one off' items for a wide range of clients that include the Chemical, Cement and Materials Handling Industries.
We are happy to provide technical assistance for clients that require corrosive resistant materials for use in arduous environments. We are able to recommend fabrics that can resist the effects of chemicals, fumes, powders and dust at both high and low temperatures.
All of our products, which are marked out, cut and assembled by hand in house are tailored to meet our customer's designs and specifications using modern, sophisticated and technical fabrics. We also provide a hole punching service for flexible connections and other products that require drillings for backing flats.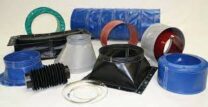 Company name:
Textile Fabrication
Address:
Commerce Way, L8 7BA